Career
Year 2014 promises to be a good year for Rabbit natives in the career arena. But it would be very hectic and they need to toil a lot to keep going. They are advised to take some time off from work as well as a distraction.Major changes are probable in your career front and you are advised to go with the wind or swim with the tide.
Some of you might find your landing in a new job too in this year.
Love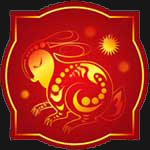 Some hindrances and hitches are forecast in your love life for this year, all you Rabbits out there. There would be misunderstandings and lack of commitment in your relationship. But make sure you stick to your partner come what may. Better times are predicted around the end of the year of Horse.
Finance
Year 2014 promises to be a better year in financial terms for Rabbit natives. Be aware of any major financial deals you make for this year. Losses and loans shall bother you if you are not wary of your spending. Also it is best advised to stay away from major luxury purchases like buying a house or a car for this year.
Health
Rabbit individuals are advised to take ample rest and a strict work atmosphere. Else it would reflect on your health. Your mental and physical health would be affected due to the other members at home. Beware of infections and other minor health scares all through the year.