General
In this year of the Sheep, Pig natives shall see new people and friends come in their life. In short you would be a crowd-puller. You would be in the limelight for most of this period. There would be instances to meet the higher-ups in your society.You would be drawn towards social and charity works as well.
A good time when your dreams become reality. Pursuing a hobby shall also give you the much needed break from the rigors of work. This year is a good time for you to travel. Plan a long vacation when you would be out of home on your own away from the turmoil of career and home burdens.
Love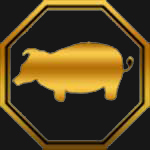 During this year of the Sheep, you would turn more practical when it comes to love relationships. You would have a feel of the difference between dream and reality. There would be testing times as well but your commitment shall see you through unscathed. At the end of the year, a new you would be found thanks to your great perseverance in this matter. Keep fighting for your might when it comes to choosing.
Career
This is a time when your hard work and commitment in your work place would be appreciated and awarded duly. New avenues open up for you from nowhere. Go after what your heart and mind say. If you are in for a change then this is the apt time for relocation or a transfer or a shift in your work place. A generally good period exists all through the year in your professional field.
Finance
In this year of the Sheep, your finances would be generally good. All investments done in the prior years shall start earning good yields for you. There would be some unexpected source of income as well. But beware of fraudulent deals in your financial moves. Handle money more diligently now like never before as you would be loaded with it.
Health
This year of the Sheep promises good health for you. But you need to keep going, like some physical exercising to maintain your physical self. Careful dieting and avoiding bad habits like smoking and drinking shall help you to stay fit for most of the year.