Career
Career prospects would be very good for Pig natives in this year of the horse. There would be stiff competition in the work place though they would turn successful in the end. Those in business ventures shall get good returns. Only hard work and commitment would see them successful at the end of the year.
Do not let success weigh you down. Lay low and let your work do the talking.
Love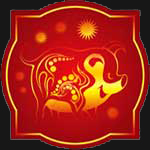 Year 2014 would be generally happy in your love relationships for the year 2014. But be prepared for unexpected turn of events as well. Those already in a relationship should strive to maintain cordial relations with partner. Single ones would have the opportunity to select their ideal partner from a bigger pack. Enjoy love life to the maximum this year.
Finance
Finances would grow to better levels than the previous years in this year of the Horse for Pig individuals. Be cautious when you deal with your personal finances. Keep a tab of what you spend for your partner. Financial investments done earlier shall fetch good returns during the year.
Health
Pig natives are advised to stay away from high carbs and high fat foods for the year 2014. They are likely to encounter health issues related to the digestive side. Occasional health issues cannot be ruled out for Pig natives for this year. A better approach towards health care shall go a long way in blessing the Pig natives with good health and cheer.