General
During this year of the Sheep, there would be some turbulences in your friendship area for all the Monkey personalities. You like to dominate the stage and this is not going to work in your favor for this year. You need to change your stand so that you keep your relationships alive and kicking.
Being a restless character, this year shall give you good opportunity to improve your own self. You can revamp your lost hobby ideas or learn a trade. An excellent time to see your ambitions in life take shape. You may also go on a long vacation to keep you updated on the world around you.
Love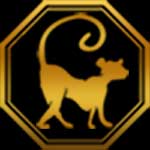 During this year of the sheep, your restless nature shall cause some uneasiness in your love life. If you like your relationships to survive then you need to appreciate the good things in your partner. Stop pestering and interfering in your partner's personal life. They need their private space as well. Those in a relationship or marriage should work to keep it alive. If single then this year shall help you to locate your ideal compatible partner for life.
Career
In this year of the Sheep, Monkey natives would be able to meet their goals in professional field. This is an apt time to get about the task of completing all un-finished tasks in career. Your aspiration of being at the top of your professional field shall materialize too given that you put in your best foot forward. If you are interested in a change, then venture out and decide on your path of interest.
Finance
During this year of the Sheep, your restless and nervous nature shall come in handy, in that you would be more cautious towards financial deals. However do not forsake the simple pleasures in life. You are going to live only once, and hence it is not bad if you indulge once in a while. But be sure that you have your credits in order.
Health
For this year of the Sheep, monkey natives shall see some physical and mental ailments. This is due to your inherent restless and nervous nature. The more weak ones would meet some nervous disorders as well. Hence you are advised to remain calm and cool and take life in its own stride. Yoga, meditation and other aerobic exercises shall help you to stay fit both physically and mentally.