General
This year of the Sheep would be a challenging year for Horse natives as far as family relationships are concerned. You need to keep a watch on what you talk as this might have serious repercussion on your relations for this year. Major changes are on the cards for this year period.
You have opportunities for higher studies or research works if intereste. Have some artistic pursuits as a secondary source of income to tide over life's difficult times. Try to lead a frugal life for this year. There are ample scope for some travel which might revamp your inner spirits and rejuvenate it.
Love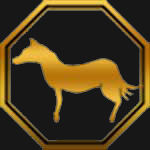 Your love life would be mostly trouble-free for this year of the Sheep. If already in a relationship or in a marriage, this is a time to submit totally to your partner and remain low-profiled. If single this year shall provide some opportunity to settle down but do not lose hope if nothing positive happens.
Career
For the year of the Sheep, Horse natives shall find certain troubles and hindrances in the career field. The previous period would not have been a good time for you in the career field. But now good tidings are coming. Change is just round the corner. Choose wisely and make correct decisions as it involves your future course of action.
Finance
In this year of the Sheep you are advised to stay away from risky ventures and have a better savings balance. This is because the uncertainties of life might pry its way into your financial life. Do avoid major high value purchases for the year and stay afloat managing the essentials in life.
Health
As the year of the Sheep would be a troublesome year for Horse people, they would be subject to physical and mental health issues. Take good care of your health. Go in for some meditation and alternate medical treatments to stay in the pink of your health.