Career
2014 being the year of Horse, Horse people shall see great success in their career fields. They can explore new avenues but care should be taken that they are not too complacent in this area. Much of their skill-sets shall come to the fore.
They should learn to be tolerant with their colleagues in the work place. Also should learn to work under much pressure.
Love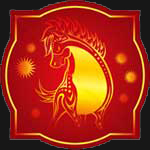 In this year of Horse, horse people should make sure that they land in compatible relationships. Hasty actions might put them in worst relationships from which there would be no coming back. Some heart-breaking or heart-wrecking events are also on the cards in the love front. However they should stick to true love.
Finance
Finances would be good for the Horse people in their year of 2014. They would be able to make good financial deals that shall have good results in the years to come. Much luck and fortune are on the cards. Hence should fully utilize their finances for the betterment of those around them as well. Social and charity works can be taken up too.
Health
Health needs to be dealt with caution in this year of Horse for horse people. Minor accidents in travel are on the cards hence maintain some vigil in this area. There would be some unavoidable medical expenditure as well which is likely to bother you. Blood related ailments likely around the end of the year.