That is the Moon is between Earth and Sun. At full Moon, the Moon is behind Earth in space with respect to the Sun.
As the Sun sets, the Moon rises with the side that faces Earth fully exposed to sunlight.
The full Moon that occurs closest to the autumnal equinox is referred to as the "Harvest Moon," since its bright presence in the night sky allows the farmers to work longer into the night,reaping the rewards of their hard labor done in spring.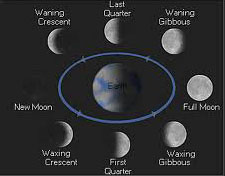 The full moon is a time of culmination, time for things to reach their totality, and it bring plans, ideas and projects together.
This is also a time for romance, fertilization, relationships, emotions and feelings. New Moon represents new beginnings, start -ups, births, etc.
It is a time to start new relationships, plant gardens/plants, and renew life. Fresh possibilities and new energy flow are seen during New Moon.
JANUARY 2012

Phase
Date
Time Eastern
Time Pacific
Position
Full Moon
Jan 7
4:54 pm
1:54 pm
18:26 Cancer
Fourth Quarter
Jan 14
12:04 pm
9:04 am
25:38 Libra
New Moon
Jan 21
5:35 pm
2:35 pm
02:42 Aquarius
Second Quarter
Jan 30
8:21 pm
5:21 pm
10:41 Taurus
FEBRUARY 2012

Phase
Date
Time Eastern USA
Time Pacific USA
Position
Full Moon
Feb 7
4:54 pm
1:54 pm
18:32 Leo
Fourth Quarter
Feb 14
12:04 pm
9:04 am
25:24 Scorpio
New Moon
Feb 21
5:35 pm
2:35 pm
02:42 Pisces
Second Quarter
Feb 29
8:21 pm
5:21 pm
10:52 Gemini
MARCH 2012

Phase
Date
Time Eastern USA
Time Pacific USA
Position
Full Moon
Mar 8
4:39 am
1:39 am
18:13 Virgo
Fourth Quarter
Mar 14
9:25 pm
6:25 pm
24:52 Sagittarius
New Moon
Mar 22
10:37 am
7:37 am
02:22 Aries
Second Quarter
Mar 30
3:41 pm
12:41 pm
10:30 Cancer
APRIL 2012

Phase
Date
Time Eastern USA
Time Pacific USA
Position
Full Moon
Apr 6
3:19 pm
12:19 pm
17:23 Libra
Fourth Quarter
Apr 13
6:50 am
3:50 am
23:55 Capricorn
New Moon
Apr 21
12:05 am
9:05 pm (4/20)
01:35 Taurus
Second Quarter
Apr 29
5:57 am
2:57 am
09:29 Leo
MAY 2012

Phase
Date
Time Eastern USA
Time Pacific USA
Position
Full Moon
May 5
11:35 pm
8:35 pm
16:01 Scorpio
Fourth Quarter
May 12
5:47 pm
2:47 pm
22:33 Aquarius
New Moon- Solar Eclipse

May 20
7:23 pm
4:23 pm
00:21 Gemini
Second Quarter
May 28
4:16 pm
1:16 pm
07:53 Virgo
JUNE 2012

Phase
Date
Time Eastern USA
Time Pacific USA
Position
Full Moon - Lunar Eclipse

Jun 4
7:03 am
4:03 am
14:08 Sagittarius
Fourth Quarter
Jun 11
6:41 am
3:41 am
20:54 Pisces
New Moon
Jun 19
11:02 am
8:02 am
28:43 Gemini
Second Quarter
Jun 26
11:30 pm
8:30 pm
05:54 Libra
JULY 2012

Phase
Date
Time Eastern USA
Time Pacific USA
Position
Full Moon
Jul 3
2:52 pm
11:52 am
12:14 Capricorn
Fourth Quarter
Jul 10
9:48 pm
6:48 pm
19:11 Aries
New Moon
Jul 19
12:24 am
9:24 pm (Jul 18)
26:55 Cancer
Second Quarter
Jul 26
4:56 am
1:56 am
03:47 Scorpio
AUGUST 2012

Phase
Date
Time Eastern USA
Time Pacific USA
Position
Full Moon
Aug 1
11:27 pm
8:27 pm
10:15 Aquarius
Fourth Quarter
Aug 9
2:55 pm
11:55 am
17:34 Taurus
New Moon
Aug 17
11:54 am
8:54 am
25:08 Leo
Second Quarter
Aug 24
9:54 am
6:54 am
01:48 Sagittarius
Full Moon
Aug 31
9:58 am
6:58 am
08:34 Pisces
SEPTEMBER 2012

Phase
Date
Time Eastern USA
Time Pacific USA
Position
Fourth Quarter
Sep 8
9:15 am
6:15 am
16:17 Gemini
New Moon
Sep 15
10:11 pm
7:11 pm
23:37 Virgo
Second Quarter
Sep 22
3:41 pm
12:41 pm
00:12 Capricorn
Full Moon
Sep 30
11:19 pm
8:19 pm
07:22 Aries
OCTOBER 2012

Phase
Date
Time Eastern USA
Time Pacific USA
Position
Fourth Quarter
Oct 8
3:33 am
12:33 am
15:26 Cancer
New Moon
Oct 15
8:02 am
5:02 am
22:32 Libra
Second Quarter
Oct 21
11:32 pm
8:32 pm
29:09 Capricorn
Full Moon
Oct 29
3:49 pm
12:49 pm
06:48 Taurus
NOVEMBER 2012

Phase
Date
Time Eastern USA
Time Pacific USA
Position
Fourth Quarter
Nov 6
7:36 pm
4:36 pm
22:32 Libra
New Moon- Solar Eclipse
Nov 13
5:17 pm
2:17 pm
21:57 Scorpio
Second Quarter
Nov 20
9:31 am
6:31 am
28:41 Aquarius
Full Moon- Lunar Eclipse
Nov 28
9:33 am
6:33 am
06:40 Gemini
DECEMBER 2012

Phase
Date
Time Eastern USA
Time Pacific USA
Position
Fourth Quarter
Dec 6
10:31 am
7:31 am
14:55 Virgo
New Moon
Dec 13
3:42 am
12:42 am
21:45 Sagittarius
Second Quarter
Dec 20
12:19 am
9:19 pm (12/19)
28:44 Pisces
Full Moon
Dec 28
5:21 am
2:21 am
07:06 Cancer