Scientific Classification:
| | |
| --- | --- |
| Kingdom | Plantae |
| Division | Magnoliophyta |
| Family | Meliaceae |
| Genus | Azadirachta |
| Species | A. indica |
| Binomial name | Azadirachta indica |
Other Common Names:
The other common names for the neem tree are Nim, Margosa Tree, Vepa, Nimbay, Yepa, Pichumarda and Indian Lilac.
History
Azadirachta indica is "tailor-made for combating the serious problems confronting mankind today" says the Neem Foundation. From the very beginning of recorded human history, people have used the mysterious neem tree.Neem, still called "the village pharmacy" in its native India, is one of the most ancient and widely used herbs in the world.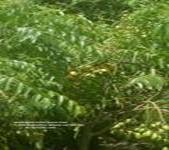 In fact, herbalists had documented the healing qualities of this remarkable tree long before Western civilization discovered the analgesic qualities of the willow tree from which aspirin is derived.The tree is popularly called the 'wonder Tree' as it is used to cure a large number of diseases, both traditional as well as modern medicine system make use oil neem tree and its parts like bark, seed, fruit to manufacture products right from skin care to oral care, from pharmaceuticals to pesticides and manure. The neem tree is very similar in appearance to the Chinaberry, all parts of which are extremely poisonous.
Description
Azadirachta indica, or Neem Tree, is an evergreen tree native to Southeast Asia. The tree will reach up to 100 feet (~30 m) tall with limbs reaching half as wide. Its deep root system is well adapted to retrieving water and nutrients from the soil profile, but this deep root system is very sensitive to water logging. The (white and fragrant) flowers are arranged axillary, normally in more-or-less drooping panicles which are up to 25 cm (10 in.)long. The inflorescences, which branch up to the third degree, bear from 150 to 250 flowers.


An individual flower is 5-6 mm long and 8-11 mm wide. Protandrous, bisexual flowers and male flowers exist on the same individual. The shiny dark green pinnately compound leaves are up to 12 inches (30 cm) long. Each leaf has 10-12 serrated leaflets that are 2.75 inches (7 cm) long by 1 inch (2.5 cm) wide.centimeters in length, borne on axillary clusters. These fruits contain kernels that have high concentrations of secondary metabolites.
Range
Native to the dry forest areas of India, Pakistan and Sri Lanka, neem thrives in the dry areas of the tropics and subtropics.Neem trees have successfully been established in Australia, Haiti, West Africa, the Dominican Republic, Ecuador, Puerto Rico, the Virgin Islands, and in the continental United States in Florida, California, Oklahoma, and Arizona.
Habitat
The neem tree thrives in hot, dry climates where shade temperatures often reach 50 degrees celsius and annual rainfall ranges from 400 to 1,200 millimeters. The tree can withstand many environmental adversities including drought and infertile, stony, shallow, or acidic soils.
Cultivation
Azadirachta indica will grow in full sun to partial shade, growing best in a well-drained soil mix. In the greenhouse, we use a soil mix consisting of 1 part peat moss to 2 parts loam to 2 parts sand or perlite. Even though the trees are very drought tolerant in nature, they are less so in containers. Trees should be well watered and allowed to dry slightly before watering again. They are fertilized on a monthly basis during the growing season with a balanced fertilizer. During winter months, water should be restricted and fertilizer avoided during this period. All repotting and pruning should be done at this time.Azadirachta indica is propagated from cuttings, layers, removal of suckers and by fresh seed. Fresh seeds germinate readily in 14 to 21 days at 68 to 72° F (19-22° C).Seed propagation is the usual method of propagating a neem. In India, the crows eat the ripe neem fruits and pass the seeds through the digestive system. The bird-drops disseminate the seeds; the seeds germinate wherever the crows drop them.
Flowering Season
White sweet scented tiny flowers borne in panicles which consist of polygamous & protandrous flowers which are in bloom from February to May.
Pests and Diseases
There are two things that could trouble the neem plant but they are both related to over watering like slugs and root rot.
Parts Used


Leaf, flower, seed, bark and the fruits of the neem tree are the most commonly used parts for its commercial and medicinal purposes.
Medicinal Applications


• The seeds, bark and leaves contain compounds called limonoids with proven antiseptic, antiviral, antipyretic, anti-inflammatory, anti-ulcer and antifungal uses.
• Neem extracts give significant protection from discomfort and speed the healing of gastric problems.
• In India, Bangladesh and Pakistan neem twigs are used daily for tooth-brushing which is probably one of the earliest and one of the most effective forms of dental care.
• Gum is used as a bulking agent and also for making special purpose food especially for diabetics.
• Extracts from this plant are also currently being investigated for use against retroviruses, such as the AIDS virus; for treating cancer, diabetes, and allergies; and for birth control in both men and women.
• Neem inhibits allergic reactions when applied externally or eaten.
• Neem quickly kills external parasites and a neem decoction is safer than and just as effective as standard treatments for head lice and scabies.
• Neem delays the coagulation of blood, calms erratic heartbeats and helps reduce elevated heart rates and high blood pressure.
Commercial Applications


• Neem oil is used for burning lamps.
• Effective in repelling pests that affect people, like mosquitoes, fleas, ticks and head lice.
• Neem cake is used as a fertilizer with insecticidal and fungicidal effect.
• The oil is also used in sprays against fleas in cats and dogs.
• Neem timber is used to make agricultural implements, axles, beams, boats, boxes, cabinets, carts, cigar boxes, crates, doors, oars, panels, wardrobes, window frames, yokes, etc.