Scientific Classification:
| | |
| --- | --- |
| Kingdom | Plantae |
| Division | Magnoliophyta |
| Class | Magnoliopida |
| Order | Ranunculales |
| Family | Berberidaceae |
| Genus | Epimedium |
| Species | E. grandiflorum |
| Binomial name | Epimedium grandiflorum |
Other Common Names:
The other common names for the shrub epimedium are horny goat weed, xian ling pi, and yin yang huo.
History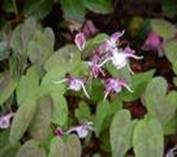 Epimedium is in the same plant family as barberry and Oregon grape root. The name of the herb in Mandarin, yin yang huo, roughly corresponds to "weed for licentious goat." Legend has it that a goat herder discovered the properties of epimedium by observing his billy goats uncontrollable sexual appetites after they grazed on the herb.Commonly found in Asian medical communities and street side markets, it is often referred as a "Yang Tonic" producing a warm almost euphoric effect on the body.The use of epimedium as a medicinal herb dates back to at least 400 A.D., where it has been used as a tonic for the reproductive system (boosting libido and treating impotence) and as a rejuvenating tonic (to relieve fatigue).
Epimedium grandiflorum is a low growing, deciduous perennial with leathery leaves, to 1 foot long, spreading by underground stems. New heart-shaped leaves on wiry stems unfurl in spring with a rosy, marbled coloration that fades to green as summer approaches. In autumn, the marbling returns in coral and copper, enduring mild winters.
Description


The tiny, unusual flowers (Bishop's Hats) are held above the foliage in airy sprays, and resemble miniature Columbines. The flowers are 1 to 2 inches wide, resemble a bishop's hat, pendent, have long spurs, and come in purple, pink, yellow or white. The flowers are in bloom in spring. Durable and long-lived, Epimediums can adapt to drier conditions once established, spreading slowly and steadily. Both flowers and foliage are prized for small arrangements. A very useful groundcover that can be planted under surface-rooted trees, and used as an under planting for rhododendrons and camellias in part shade. The flowers are hermaphrodite (have both male and female organs) and are pollinated by Bees. The plant is not self-fertile.
Range
It has 44 species in the wild, originating from Eurasia and the Mediterranean. The species grows wild over a very broad range from the Mediterranean through Central Asia & into China.Epimedium grandiflorum is a member of the Berberidaceae and is native to China, Korea, and parts of Japan.
Habitat
Epimediums grow in morning sun to light shade. They thrive in moist well drained soil, and tolerate drought when established. It requires good drainage, fertile soil and shade to part shade. Tolerates dry shade. Generally these tough plants prefer a cool woodland situation under deciduous trees. Watering is always necessary through the first season to help them get established.
Cultivation
They are best planted in spring, fall or in the cooler parts of an early summer day. Epimediums do not thrive in hot sun. So position them in partial to dappled shade. They can grow in deep shade, but will bear sporadic blooms. These perennials are virtually pest free. Cut foliage back in early spring to keep it fresh and show off the flowers. Fertilize after blooming with an all purpose fertilizer. Water through the first season to establish. Seed are best sown in a cold frame as soon as it is ripe in late summer. Sow stored seed as early as possible in the year in a cold frame. Prick out the seedlings into individual pots when they are large enough to handle and grow them on in light shade in the cold frame or greenhouse for at least their first winter. Plant them out in mid to late summer. Division, best carried out in August to September according to one report, in late spring according to another. Larger clumps can be replanted direct into their permanent positions, though it is best to pot up smaller clumps and grow them on in a cold frame until they are rooting well. Plant them out in the spring. Cuttings are done in late summer.
Flowering Season
The flowers of epimedium which looks like bishops hat are in bloom in spring.
Pests and Diseases
Virtually pest and disease free! Root weevils may cause minor leaf notching. Root rot could kill a plant if it is not in a well drained area. There are no plants that are 100% deer resistant, but many that are deer tolerant. There are plants that deer prefer over others.
Parts Used

The dried leaves are the most commonly used parts of the Epimedium for its medicinal and commercial applications.
Medicinal Applications

• It is used in treating for white patches of vagina.
• It helps in curing coronary disease and viral infections of the heart muscle.
• Epimedium helps in enhancing the quantity of white cells.
• Epimedium treats chronic bronchial infection and asthma.
• It helps in treating inflammation of the gray matter of the spinal cord.
• Epimedium kills the bacteria that cause gonorrhea and stimulates the activity of germ-eating immune cells called macrophages.
• It has been clearly shown that Epimedium does increase sexual activity in animals and humans. It stimulates the sensory nerves throughout the body, and in particular in the genital region. Epimedium also increases sperm production in men. It has been shown to have a moderate androgen-like influence on the testes, prostate gland and anal muscles, which will influence sexual desire and activity.
• It plays a vital role in treating bronchitis cervical dysplasia, congestive heart failure, leukorrhea, leukopenia, and viral infections of the heart.
• It is also used in treating arthritis and back pain.
• Epimedium increases blood flow to the heart by causing the coronary blood vessels to dilate. This action lowers blood pressure and is long-lasting, although the body can develop a tolerance to the herb after long-term use.
• Epimedium may be a possible preventative medicine for osteoporosis, as a complement or alternative to hormone treatment in older women.
Commercial Applications

• Epimedium grandiflorum is a member of the Berberidaceae and is native to China, Korea, and parts of Japan.
• Often used in Chinese medicine as a pungent tea, its yellow green leaves are traditionally steeped in wine before being fashioned into pills.