The tying of the Rakhi is done in an auspicious time.
The sisters in return shower him with sweets and flowers and apply tilak in his forehead.
The tilak is said to protect them from all sorts of evil eyes.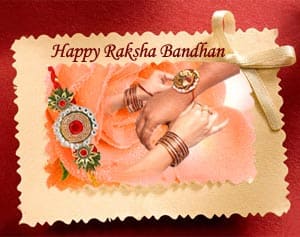 The festival of Raksha Bandhan is considered favorable if celebrated in time devoid of Bhadra which is malefic. According to the ancient Indian Vedic scriptures "Raksh" means protection. This indicates the vow the brother gives his sister to protect her. In India Raksha Bandhan is celebrated by brothers and sisters irrespective of religion, creed and caste.
Raksha Bandhan is celebrated in the Shravana month during full moon day or Purnima day. The best time to tie Rakhi on Raksha Bandhan day is during Aparahan which is late afternoon according to Hindu division of the day. If Aparahan time is not available then Pradosh time is also suitable to perform rituals related to Raksha Bandhan. Raksha Bandhan rituals should not be done during Bhadra. Bhadra is malicious time which should be avoided for all auspicious work. Hence it is advised to check with any panchang before doing this.
Raksha Bandha or Rakhi is called Avani Avittam in South India. This falls on the full moon day of the month of Sravan (August-September). It is an important Hindu festival. Hindus wear a new holy thread . Females tie the sacred thread to a holy tree like Amla or Neem. This ensures the longevity of their husbands according to legend.
Legend:
On this day, Sachi, the consort of Indra, tied a holy thread around the wrist of Indra, when he was defeated by the demons. Then Indra, the king of gods, gained victory over the demons by the power of this protection and recovered the lost city of Amaravati.
Related Links
---
• Check out the compatibility with your sibling
• Important dates of Indian festivals