Variscite's bright color comes from traces of chromium. It is also known as Utahlite, Barrandite, Bolivarite and Lucinite.
Usage:
Enhances brain functions, stimulation mental alertness, though processes, higher intellectual capacity, intuitive/psychic perception. it helps remember past lives and build virtue, self-reliance, moral courage and success. Gives courage to the carer to continue with the treatment of the sick and elderly and promotes understanding and help with that difficult task. It is said to aid the blood and heart, give emotional stability, self confidence and bring abundance.
Physical Properties:
Variscite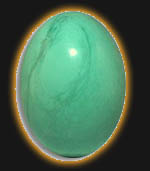 Refractive Index
1.55-1.59
Symbolic Gemstone: True Worry Stone
Legend:
Mining and marketing of the variscite as "chlor-utahlite" on a small scale for the jewelry trade continued up to about the time of the World War 1.
Occurrence:
Australia, North, South and Central America.