Year 2017 is the Chinese year of the Red Fire Rooster. It starts from January 28th, 2017 and ends on February 15th, 2018. The energy associated with this year of the Rooster is Yin. As RED is the element for year 2017, red colour is to be avoided and instead colours that complement red like brown and yellow can be used.According to Chinese astrology, Roosters are known for their high level of integrity and efficiency in their works.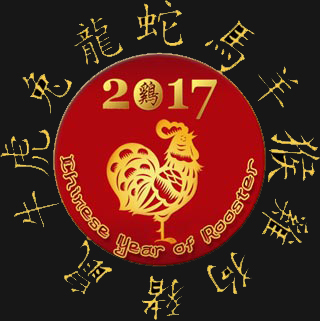 "Roosters" should be more careful in the years of the Rooster.
People born in a year of the Rooster are very observant, resourceful, talented, and confident about themselves. They are active and amuse people around. Roosters are frank, open and honest individuals. They are attractive and get noticed easily. Roosters are social birds and like to party around, like to hog the limelight much like the western zodiac sign of Leo.
On the flip side, Roosters expect others to listen to them while they speak, and can become agitated if others don't. Vain and boastful, Roosters like to brag about themselves and their accomplishments. Their continually seek the unwavering attention of others.
Rooster Career
Roosters make good newsreader, sales person, restaurant owner, hairdresser, public relations officer, farmer, athlete, teacher, waiter, journalist, travel writer, dentist, surgeon, soldier, fireman, security guard, and police officer.
The lucky List for Roosters
Lucky numbers: 5, 7, and 8
Lucky days: 4, 26 of any Chinese lunar month
Lucky colours: gold, brown, yellow
Lucky flowers: gladiola, cockscomb
Lucky direction: south, southeast
Lucky months: 2nd, 5th, and 11th Chinese lunar months.
Unlucky List for Roosters
Unlucky colour: red
Unlucky numbers: 1, 3, and 9
Unlucky direction: East
Unlucky months: 3rd, 9th, and 12th Chinese lunar months Love Compatibility for Roosters
Best with: Ox or Snake
Worst with: Rat, Rabbit, Horse, or Pig
Rooster Traits Rooster Celebrities Rooster
Year 2018 would be the Year of the Dog
(xin nián kuái lé) Happy Chinese New Year