They are believed to be innocent, romantic, frank and forthright. They have a strong sense of justice, and do all things seriously. They are kind and generous to others and are very popular with people around them.
Pig is not generally a smart animal. It likes to eat and sleep and gets fat easily. Thus it usually features laziness and clumsiness. On the positive side, it behaves itself, has no plan to harm others, and can bring affluence to people. Consequently, it has been regarded as wealth by the Chinese.
You are a "Pig native" according to Chinese Astrology if you are born in one of these years: 1935, 1947, 1959, 1971, 1983, 1995, 2007, 2019, 2031.
Lucky Vs Unlucky for Pig Year
Lucky Numbers:2, 5, 8 VS Unlucky Numbers: 1, 3, 9
Lucky Colors: gold, brown, yellow, grey VS Unlucky Colors: red, blue, green
Lucky Directions: southeast, northeast VS Unlucky Direction: east, west
Lucky Flowers: hydrangea, pitcher plant, marguerite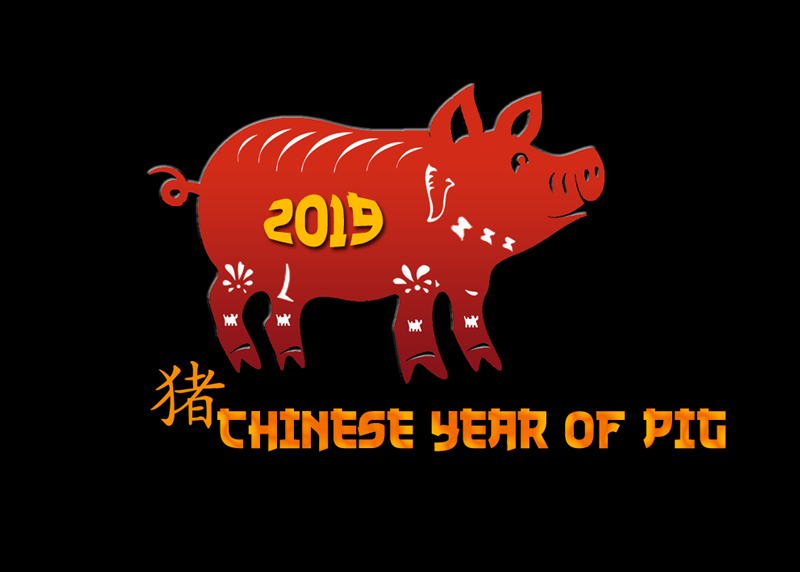 2019 - YEAR OF THE PIG - IN A NUT-SHELL
Rat - A year of happiness and prosperity.
Ox - A good year for Ox. A time with good opportunities to make money.
Tiger - This year you will need to learn how to come to terms with others.
Rabbit - An excellent year is waiting for you. You will make new friends.
Dragon - This would be an year of reconsiderations.
Snake - This year you'll have to be combative and persuasive.
Horse - The year is going to be more auspicious than the previous year.
Goat - This year all your ambitions will be fulfilled .
Monkey - A year under the influence of chance.
Rooster - This year pay heed to relationships to be happy.
Dog - This year count only on your own efforts in order to succeed.
Pig -Set your priorities and keep working, you will see results as you move.
Pig Celebrities
Henry VIII, Oliver Cromwell, Albert Schweitzer, Christopher Boykin, Ernest Hemingway, Stephen King, Alfred Hitchcock, Woody Allen, Arnold Schwarzenegger, Evan McGregor, Hillary Rodham Clinton, Jenna Elfman, Julie Andrews, Lucille Ball, Luke Wilson, Mahalia Jackson, Magic Johnson, Mark Wahlberg, Nicholas Brendon, Rachel Weisz, Ronald Reagan, Agyness Deyn, Amber Tamblyn, Amy Winehouse, Carrie Underwood, Mila Kunis.
Pig Traits Pig Celebrities Pig
2020 is the Year of Rat
(xin nián kuái lé) Happy Chinese New Year