In 2007, the Chinese New Year is on February 18th. This year is being celebrated as the Year of Pig (4705). It is also known as Ding Hai. The Chinese New Year begins with the second new moon after the winter solstice, which occurs between Jan 21 and Feb 19. Since this is the Year of the Pig, any one who was born in the Year of the Pig is now either 0 or would be 12, 24, 36, 48, 60, 72, 84 or 96 years old.
The new moon time is at 16:14 on 2-17-07 of Greenwich Mean Time (GMT) and at 17:14 on 2-17-07 of Time Zone GMT+1. That means Chinese New Year day is on February 17th, 2007 for European countries. For Asian countries using GMT+7 time zone, the Chinese New Year Day is on February 17th, 2007. For the US it would be on February 18th.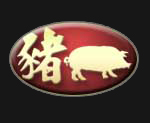 The Year 2007 (Red Pig) is the 4704th Chinese year. The Chinese believe that the first king of China - the Yellow King became king in 2697 B.C., therefore China will enter the 4704th year on February 4th, 2007. Also, the Chinese Year uses the cycle of 60 Stem-Branch counting systems and the Red Pig is the 23rd Stem-Branch in the cycle. Since 4700 = (60 *78) + 24, therefore this Red Pig Year is the 4704th Chinese Year
The Chinese people take good care of the pigs, they give them good food, the pigs enjoy sleeping all day long and worry about nothing during their entire lives. Therefore, pig is a lucky animal. According to Chinese Five Element astrology, the animal sign Pig contains Water and Wood. People born in year of Pig don't have any unyielding argument with other people. Since Pig-type people have more peaceful lifestyle than others, they are therefore luckier. People will have better luck in 2007, if their Lucky Element is Water, Wood or Fire.
The pigs are the nicest and most calmful of all animals. We think that the pigs are obstinate animals. But as a matter of fact, Pigs are very benevolent. The go out of their way to make their family and friends pleased. But they avoid socializing and have a circle of their own out of which they do not get out.They are found to be shortsighted too. They do not have any foresight.
But Pigs are born intellectuals and have great fire for wisdom. They are also passionate lovers of luxury.
Pig Years :1935 1947 1959 1971 1983 1995 2007