Floriculture includes cultivation of flowering and ornamental plants for sales or for use as raw materials in cosmetic and perfume industry and the pharmaceutical sector. From centuries flowers are symbol of beauty and love essentially grown for aesthetic, social function. Higher standards of living and growing desire to live in an environment friendly atmosphere have led to an increasing demand for floriculture. This is an emerging economic field and has been in the forefront in the recent years. Floricultural products constitute a small but important segment of the international trade. The floral industry today has grown too much larger proportions and offers a wide scope for growth and profits.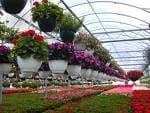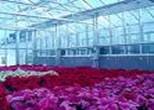 They are grown in cell packs, in pots, or in hanging baskets, usually inside a controlled environment, and sold largely for gardens and landscaping. Geraniums, impatiens, and petunias are the best-selling bedding plants. Chrysanthemums are the major perennial garden plant in the United States. In Australia and the United States some species are harvested from the wild for the cut flower market. Floriculture crops include bedding plants, flowering plants, foliage plants or houseplants, cut cultivated greens, and cut flowers. As distinguished from nursery crops, floriculture crops are generally herbaceous. Bedding and garden plants consist of young flowering plants and vegetable plants.
Floriculture is the most intensive form of agriculture. It has the highest capital investment and labor input per acre, usually operates year-round, and uses the most advanced production technologies. Floriculture has traditionally been a model system for agricultural innovations and technologies improving efficiencies and marketing advantages. Floriculture was the first to use automatic irrigation and fertilization, now standard for agricultural commodities including field crops such as corn and cotton. The use of the greenhouse itself, has been adapted by agricultural researchers in the It is an important agricultural bridge between biotechnology and economically usable products for the consumer Splant sciences. Soil pasteurization to minimize crop loss from diseases was first developed in the greenhouse. Tissue culture propagation was first commercialized with floricultural plants. Floricultural scientists have also developed methods to conserve energy and water, prevent nutrient and pesticide ground water pollution and reduce air pollution.
The orchid industry is totally dependent on tissue cultured plants. Mist propagation, first used in floriculture, is used the world over for propagating all types of plants. Supplemental greenhouse High Intensity Discharge (HID) lighting to increase photosynthesis was also in wide floriculture use before expanding generally into northern latitude commercial greenhouses.
CAREER
Floriculture is a colourful career which offers opportunity to explore new avenues. Below is the shortlist of few sectors and cadre where they can be employed
• Government sector as well as the corporate sector.
• Floriculture units.
• Farm or estate managers, handling large-scale production of certain varieties of flowers.
• Supervisory positions for outdoor design consultancy firms and for development and maintenance of gardens.
• City planners and builders-and those who carry out maintenance at various sites employ floriculturists and horticulturists.
• Floriculturists may teach at the college and university level.
• They are also employed in cosmetics and perfume industry.
• One can set up own venture, growing flowers for the domestic or export market, growing ornamental plants, running nurseries, or providing gardening and landscaping advisory services.
• Managerial or marketing positions with organizations involved in the processing and Marketing of flowers and flowering plants.
• Can work with reputed Research & Development cells of companies and corporate houses.
LANDSCAPE AND FLORICULTURE NEWS
CHIEF FOREST REEDER
The Agave, a Striking Addition to the Landscape looking like huge green flowers reaching for the sky, the eye-catching agaves makes a bold statement. While particularly attractive, these huge succulents can look mightly unfriendly with their sharp spines, which have made them very effective for corralling livestock in farmyards of their native Mexico and South America. Formed by an enormous rosette of wide strap-like leaves ranging in color from green to gray and variegated combinations, agaves are a staple in rock or desert gardens, but also do nicely near the ocean. All the species share a love of sandy soil with good drainage, and all will die back after flowering. Blooms do not appear for many years, however, and suckers will immediately replace the previous growth. Among the most popular of the nearly 30 species obtainable are Agave americana, A. attenuata, and A. vilmoriniana. Each has distinctive properties that make it suitable for different landscape needs.
FLOWER AWARD WINNERS
FloraStar, a trialing and awards program for identifying outstanding new pot plants, announced two new winners.
'Global Neon Cherry' ivy geranium produces large, bright fuchsia, semidouble flowers. It has a trailing habit and produces velvety, dark purple flowers with a bright white picotee.
'Imperial' has good post harvest qualities and hold sup well for a long time even in a hot greenhouse.
The latest FloraStar winner is lantana 'Patriot Hot Country.' Introduced by Am. Daylily & Perennials, it produces conical and full flowers that change from yellow/sienna to hot fuchsia, giving an overall mass of homogeneous fuchsia color. It is excellent for large landscapes and for standards. Am. Daylily also received a FloraStar award for lantana 'Patriot Rainbow' in 1994.
Horoscope - Career for Zodiac Signs
So if you are interested in taking up this colourful career just check out if the sun signs listed below is yours, which is in favour of floriculture

Taurus

Libra

Capricorn
Eligibility : Click here for more information
Institutes : Some of the prominent institutions offering courses in Flori culture can be had from the following links.. Click here for more information