The career involves exciting experience of flying, visiting different places, interacting with different kinds of people on board and a very attractive pay package.
Liberalization of air policies has increased the private operation of air services and this has created immense job opportunities in this field. This is a highly demanding job which requires a strong conviction, commitment and hard work for learning the technical aspects of aircraft operation and skills to tackle difficult situation. The ability to react quickly in time of emergency, presence of mind, systematic approach, unruffled appearance, a well-modulated pleasant voice and a proportionate figure with a graceful carriage are the important traits required in an Air hostess or a Flight Steward. A host of domestic and foreign airliners provide amazing career alternatives in the civil aviation sector. Today, chasing the exciting dream of becoming an Air-Hostess is closer and truer than ever before.


In an Air hostess job, employees are expected to excel in customer service and always remain friendly and enthusiastic with a good sense of presentation. An Air-Hostess has her task cut out in providing in-flight information, demonstrating safety regulations, in time of crisis like emergency landing, crash landing, etc. to cope with the situation and disembark fast from aircraft, etc., are also an art of Air Hostess. There have been instances of Air Hostesses displaying valour, and even laying down their lives for the safety of passengers. They help the passengers to find their seats and put cabin luggage in the luggage chambers. They give instructions to the passengers about how to operate the air flow system, knobs above one's seat and how to call them in time of need. The duty of an Air-Hostess includes attending the needs of special passengers such as those who are sick and VIPs. All additional assistance sought by passengers is extended by an Air-Hostess in making the journey pleasant and comfortable.
AIR HOSTESS TRAINING MODULE
There are various Air Hostess training modules available by recognized institutes. The module deals with learning of technical and non technical aspects of the aircraft. The candidates are made to learn in-flight service, passenger handling, passenger psychology, service of meals on the aircraft, the art of conversation, transactional analysis, emergency evacuation system, personal grooming and hygiene, First Aid, confidence building, handling of visually impaired passengers, making announcements, emergency demonstration, etc.
CAREER
The future is bright for an air hostess. They can find employment with private owned domestic and international airlines. A chosen career as an Air-Hostess is rejoicing and exciting. Apart from excellent perks and remuneration, it is full of wonderful trips to exciting destinations. An Air-Hostess may climb the career ladder to become a senior Flight Attendant and then a Head Flight attendant and also move alternatively to Ground Staff services. After three to five years, depending upon your performance, Air Hostess is eligible to become a Flight Purser. Your responsibilities increase as you take over the charge of the Cabin Crew on board.
Ground Job: You can join here directly or after having served on the flight for long, you can opt for ground jobs in sections like staff-training and human resource management in the corporate office.
INTERESTING NEWS ABOUT AIRHOSTESS
CHINA'S FIRST AIR HOSTESS- COPS TO SURFACE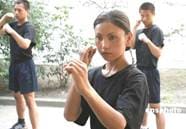 Zhuoga is one of China's first batch Tibetan stewardesses. She will appear on the plane of Air China's Southwest Company in early September as China's first female Tibetan airplane security guard. Pictured: the Tibetan girl Zhuoga who has a swarthy complexion by the sun was learning wrestling with male students. Starting early this September, China's first batch of female stewards with "double identities", who are not only gentle and beautiful air hostesses but also "air policewomen" good at fighting, will formally show up on the flights of Air China Southwest Branch Co. It is learnt that after passing a strict test, these air security guards will receive a two-and-a-half-month isolation training in Chengdu command institute under the Chinese People's Armed Police Force, where they can train physical abilities and learn skills of capturing and unarmed combat and how to handle emergency. Air China revealed that in some respects, female security guards are more careful and not easy to be discovered on the flight. Once an emergency happens, their identities as stewards more likely ease others' alert, which is good for overpowering the criminals with a single step beyond their expectation.
ELLEN CHURCH
The first female Flight Attendant, then called an air stewardess, was Ellen Church. She was a registered nurse, a job requirement at the time, and was hired by Boeing Air Transport (later part of United Airlines) in 1930 as an experiment to help convince the public that flying was a safe and reliable form of transportation. Ms Church and seven others hired at the time, were responsible for taking care of passengers during the flight, but were also responsible for carrying baggage, cleaning the interior of the plane, pushing the plane into the hangar and refueling. If history is accurate, the most important part of the job was to make sure passengers using the lavatory didn't open the exit door in error, and for this you needed to be a registered nurse!
Boeing's "experiment" was so successful, that the other airlines hired air stewardesses as well, and the rest is history.
HOROSCOPE - CAREER FOR ZODIAC SIGNS
So if you have the above personality which will suit the standard set for an air hostess and if your sun sign belongs to the few mentioned below then go ahead for a successful career

Aries

Cancer
Eligibility : Click here for more information
Institutes : Some of the prominent institutions offering courses in Airhostess can be had from the following links.. Click here for more information