When the first retrograde of Mercury starts on January 21, the Moon will be crossing in front of Mercury, and Jupiter will be at opposition to Mercury. Things will probably be tense and emotional. Relationships, money and human values play a significant role in the years' first retrograde. This is an apt period to reconnect with people and situations that were once special in your life. This is a time when old connections are likely to spring up from nowhere.

During the second retrograde that starts on May 19, 2015, Mercury would be in its home town of Gemini. This would bring in much energy and aggression into the fore. There would be a frenetic mindset among people with words being spit out without second thoughts. This is a time to stay low and look for the silver-lining in the cloud.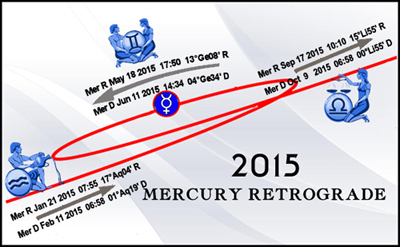 When Mercury goes retrograde finally for the year in September 17, it takes place in the house of Libra. As Mercury follows its backward path just after Venus goes retrograde you can expect some cleanup in the skies. There would be better news for the heart and soul altogether.Predicting about these astral phenomena, Nimmi, of FindYourFate.com explains, "All these retrogrades take place in airy signs which are related to communication and intellect. Hence these retrogrades might bring about chaos and misunderstanding in relationships and humanity as a whole is likely to suffer."So how do you get out of this mess and survive these retrogrades, when they say you ought not do anything and lay low. Mercury goes retrograde three times annually for approximately three weeks. You can't put your life on standby mode for long, right?
So what ought to be done??
In the words of Nimmi -
Use this retrograde period to find things that you thought have been lost for long. It would be a bunch of keys, an important document or even your favorite pen. Utilize this period to find people from your past, he or she would be an ex-partner looking out for you. Or it might be your old school friends trying to get in touch with you.
Mercury retrograde is also a good time to finish off any impending works or ventures that you had left un-done for some reason or the other.
This would be an ideal time to revamp your plans and reconsider your ideas so that the flaws you encountered beforehand would not happen now.
Try to re-evaluate your plans so that things go in a positive direction without taking any final decisions for now. Mercury retrograde period is a good time to solve some mysteries that had been haunting you for quite some time. It's an ideal time when you can get to the bottom of things that is to get to know that real truth behind things or events in your life.
"Clear out the clutter that you have been hoarding in your wardrobe or your work table. This is the best time to get rid of unwanted essentials in life." – advises Nimmi, of FindYourFate.com.
Last but not the least it would be a good time to take time to laugh things out even if they are serious ones.
Here's to wishing you a trouble-free 2015 Mercury retrograde period!