It gets them to be more emotional and sentimental for the day though love rules all the days of our life!! Now, here's the best Valentines horoscopes for the 12 sun-signs. The horoscopes are done based on the presence of Venus and Mars in the zodiac sky for the day.
Happy Valentines Day!!
ARIES VALENTINE'S DAY HOROSCOPE 2018
For Aries guys, Venus is not favorably posited for the day. However they can use their Lord, Mars' energy and power to win over their partner. This would be a great day for physical pleasure and emotions. Also a good time to fall in love for the first time. Do not look at the material side of the relationship now. The whole day would be quite engaging for Aries natives.
TAURUS VALENTINE'S DAY HOROSCOPE 2018
On this Valentines day, Venus forms a sextile with Mars for Taurus guys and hence this can be taken as a positive trend for the day ahead. Especially the day is quite favorable for the love prospects of females. If partner is living away from you, then this would be a testing and emotionally-longing time. In general, Taurus natives would find an increased level of their emotional side.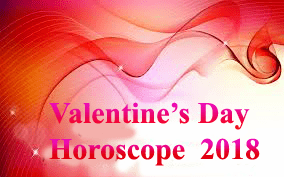 GEMINI VALENTINE'S DAY HOROSCOPE 2018
For Gemini guys, the planets of love namely, Venus and Mars are not in good aspects. Hence the day would be troublesome with communication problems at large. If you are lonely, you would feel more sullen for the day. This is not a favorable day for you. However it would be a good time to think over your future love prospects. Lay low and do not get into trouble!!
CANCER VALENTINE'S DAY HOROSCOPE 2018
This Valentines day is quite favorable for Cancer guys. In that Venus and Mars are in trine relation for you. This supports an engaging day with your family and partner in particular. Tell him or her how much you love them as usually you are not one to shout it out loud. New emotions fill the day. A good dinner together would solve rifts.
LEO VALENTINE'S DAY HOROSCOPE 2018
Mars is quite favorably posited for Leo guys for this 2018 Valentines day. This would bring about a romantic and passionate day with your partner. Venus in not posited favorably though for you making you quite emotion-less and careless to the woos of your partner. However this is your day as you are loaded with much energy.
VIRGO VALENTINE'S DAY HOROSCOPE 2018
This Valentines day would be quite an affair for Virgo as some of you natives would have been in love of late. As Venus is in opposition for the day you are advised to be calm with your partner. Though little passion is on the cards wait for another day to woo your partner into greener pastures.
LIBRA VALENTINE'S DAY HOROSCOPE 2018
For Libra guys this Valentines day would be of mixed feelings as Venus is not in favor, however Mars gives about lot of sexual magnetism and passion for the day. Certain issues in relationships get solved and you would be coming out of a relationship crisis. Though you are more prone to work, give this day a break to think of love and partner.
SCORPIO VALENTINE'S DAY HOROSCOPE 2018
Venus is in trine for Scorpios on this beautiful Valentine's day and hence is favorable for love pursuits. However Mars might bring about occasional hindrances. There would be a great desire to love and get loved. A good day to present a valuable gift to your partner or spouse.
SAGITTARIUS VALENTINE'S DAY HOROSCOPE 2018
Sagittarians have planet Mars favorably disposed for them and hence they would be at their emotional and sexual best this Valentines day. Natives would be more passionate like never before, with erotic performance on the cards. You would be more attracted to potential partners this day. Those already in a relationship would find solace for the day with their partner at hand.
CAPRICORN VALENTINE'S DAY HOROSCOPE 2018
This Valentine's day is just like any other day for Capricorn guys. The reason being you are not able to bring your feelings and emotions for your partner to the table. The day is quite favorable for you to express though. Hence put your work or career issues at the back and woo your partner with chocolates and roses.
AQUARIUS VALENTINE'S DAY HOROSCOPE 2018
Aquarians are generally not used to parties and showy affairs with their partners. But then the day is prospective for you to spell out your heart to your partner, Aquarius. The day is good enough to host a dinner for him/her. However do not indulge or pamper them too much as they might take advantage of the same.
PISCES VALENTINE'S DAY HOROSCOPE 2018
Venus is perfectly placed on this Valentines day for Pisces guys. Today is the right day to proclaim your love if you haven't yet done that. But then beware as Mars is not favorable for you and might bring about some tensions between you both. In general the day is apt to go out together, have dinner or go on a window-shopping spree.
Related Links
---
• Do you love your partner enough? Take our love quiz..