Being a Cancer he would be an emotional character which would be protected by his hard outer armor like a crab. Being a royal figure he needs to keep his emotions under control and cover.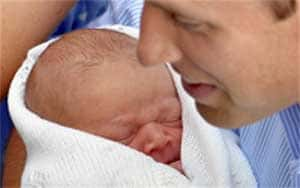 The luminaries Sun and Moon are in opposition in his birth chart. Hence there would be clashes between his personal and professional personalities. But Mars and Jupiter in good aspect shall provide him with the much needed confidence to be a royal member.
Sun, Mercury and exalted Jupiter together in the ninth house making a Grand Trine is a very good position for the native. Mercury in opposition to Pluto shall make him a convincing personality. Sun in the 9th house indicates a philosophical bent as well. The 10th house of profession is Leo, a royal sign to behold. Saturn posited in the first house shall make the native more serious and responsible in life. Venus in the 11th house of Virgo would make him very sociable and attractive to the opposite sex.
It is to be noted that the royal baby was born in the last degree of the zodiac sign of Cancer. The 30th degree of any sign has the strongest power of any sign and hence Cancerian traits are to be favored in the baby's chart. Being born on a full moon the native is likely to uphold a troubled kingdom. He arrived two hours before a full Moon, which means our little prince was born at the gibbous phase.
To sum up the royal baby is a personality who is worth watching as he grows up...
Related Links
---