Then she left him in the doorstep to guard her when she is taking bath. Lord Shiva who did not know of this episode cut off the head of Ganesh on seeing him in the doorstep.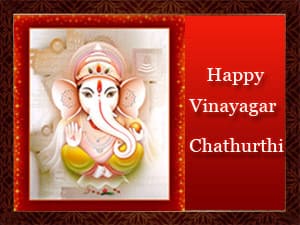 When he came to know about the truth, he cut the elephant's head and gave his son.
Ganesh Chaturthi or Vinayaka Chaturthi is the celebration of the birth of Lord Vinayaka or Ganesh who is the son of Lord Shiva and Goddess Parvathi. Generally Ganesh Chaturthi falls on the fourth day of the waxing phase of the moon in the month of September. Ganesh Chaturthi falls under the 'nakshatra' of 'Swathi', with the moon in Libra zodiac sign.
Ganesh Chaturthi is one of the most important Hindu festivals apart from Diwali in India. It is said that worshipping Lord Ganesh bestows wisdom, prosperity and fortune on the individual. All Hindus irrespective of their natal god worship Lord Ganesh.
In North India he ten day festival is observed in the lunar calendar month of Bhaadrapada, starting on the shukla chaturthi or the fourth day of the waxing moon period as per Vedic Hindu Astrology. Legend has it that one should not look at the Moon as this might bring unwanted hardships in one's life.
On the day of the Ganesh festival sweets like laddoos and modaks are offered to the Lord as these are his favorite food and then distributed to the people. After a final offering of coconuts, flowers and camphor, the Ganesh idols are worshipped and taken through the streets in a procession and immersed in nearby lakes or rivers or sea or water-bodies.
According to the popular belief, Lord Ganesh descends on the earth on Ganesh Chaturthi to stay with his devotees for the course of ten days and clear all their obstacles in life . In return the devotees offer the lord his due respect by worshipping him and offering sweets. Breaking of coconuts is also considered to be very auspicious on Ganesh Chaturthi day.
Worship of Lord Ganesha has attained lot of significance as a remedy for various astrological problems. Lord Ganesha becomes an effective remedy related to Moon, Mercury, Mars and Ketu. Tuesday and Wednesday are said to be very favorable days for worshipping Lord Ganesha and for performing related remedies.
Related Links
---