The VOC of Moon is a period occurring every alternate day, lasting for about a few minutes, a few hours or an entire day when the Moon makes no major aspects to other planets before it leaves the sign that it is transiting. The Moon produces activity by its aspects and, when there are no aspects, there will be no activity. The key phrase for the VOC period is: "Nothing will come out good". This is not a bad time astrologically and this period can actually be used beneficially.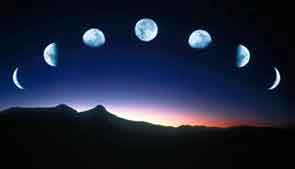 During a void Moon you should not sign a contract, make plans, close a deal or start a new project. Anything you want to give a concrete result should not be taken up in this period. If you do, these things will never get off the ground, or never materialize or have to be re-done, or have so many problems andsetbacks or might turn useless.
Void-of-course Moon time is best suited for subjective, spiritual, non-material concerns, prayer, yoga, play, parties, psychotherapy, sleep, meditation related ventures.You can rest, sleep, pray and meditate.

January 2013 Void of Course Moon Table


Void Begins

Void Ends

Date
Time (EST)
Date
Time (EST)
February 2013 Void of Course Moon Table


Void Begins

Void Ends

Date
Time (EST)
Date
Time (EST)
march 2013 Void of Course Moon Table


Void Begins

Void Ends

Date
Time (EST)
Date
Time (EST)
april 2013 Void of Course Moon Table


Void Begins

Void Ends

Date
Time (EST)
Date
Time (EST)
May 2013 Void of Course Moon Table


Void Begins

Void Ends

Date
Time (EST)
Date
Time (EST)
June 2013 Void of Course Moon Table


Void Begins

Void Ends

Date
Time (EST)
Date
Time (EST)
July 2013 Void of Course Moon Table


Void Begins

Void Ends

Date
Time (EST)
Date
Time (EST)

July 1

2:48 am

July 1

5:43 pm

July 3

11:51 am

July 4

5:21 am

July 6

8:30 am

July 6

6:14 pm

July 8

7:44 am

July 9

6:48 am

July 11

3:54 pm

July 11

6:12 pm

July13

11:26 am

July 14

3:41 am

July 15

11:18 pm

July 16

10:24 am

July 18

7:12 am

July 18

1:54 pm

July 20

11:00 am

July 20

2:39 pm

July 21

11:53 am

uly 22

2:07 pm

July 23

10:01 am

July 24

2:22 pm

July 25

2:43 pm

July 26

5:29 pm

July 27

10:19 pm

July 29

12:43 am

July 30

11:56 am

July 31

11:42 am
august 2013 Void of Course Moon Table


Void Begins

Void Ends

Date
Time (EST)
Date
Time (EST)

August 1

12:48 pm

August 3

12:29 am

August 5

2:49 am

August 5

12:58 pm

August 6

5:51 pm

August 7

11:57 pm

August 9

6:05 pm

August 10

9:08 am

August 11

9:29 pm

August 12

4:18 pm

August 14

5:30 pm

August 14

9:04 pm

August 16

1:32 pm

August 16

11:25 pm

August 18

2:26 pm

August 19

12:07 am

August 20

9:45 pm

August 21

12:43 am

August 22

9:38 pm

August 23

3:13 am

August 25

6:02 am

August 25

9:13 am

August 27

6:58 pm

August 27

7:08 pm

August 29

12:44 am

August 30

7:33 am

August 31

8:06 pm

September 1

8:01 pm
September 2013 Void of Course Moon Table


Void Begins

Void Ends

Date
Time (EST)
Date
Time (EST)

August 31

8:06 pm

September 1

8:01 pm

September 3

1:52 pm

September 4

6:43 am

September 6

6:10 am

September 6

3:12 pm

September 8

4:46 pm

September 8

9:44 pm

September 10

5:21 am

September 11

2:36 am

September 12

1:08 pm

September 13

5:56 am

September 14

7:17 pm

September 15

8:05 am

September 16

4:19 am

September 17

9:58 am

September 19

7:13 am

September 19

12:58 pm

September 20

9:25 pm

September 21

6:33 pm

September 23

3:13 am

September 24

3:34 am

September 26

7:21 am

September 26

3:24 pm

September 29

3:30 am

September 29

3:57 am
October 2013 Void of Course Moon Table


Void Begins

Void Ends

Date
Time (EST)
Date
Time (EST)

October 1

12:48 am

October 1

2:52 pm

October 3

2:57 pm

October 3

10:59 pm

October 5

6:28 pm

October 6

4:33 am

October 8

12:54 am

October 8

8:21 am

October 10

6:10 am

October 10

11:17 am

October 11

8:04 pm

October 12

2:00 pm

October 14

4:28 pm

October 14

5:06 pm

October 16

3:15 am

October 16

9:18 pm

October 18

7:38 pm

October 19

3:27 am

October 20

5:02 pm

October 21

12:14 pm

October 22

8:35 pm

October 23

11:36 pm

October 25

4:31 pm

October 26

12:12 pm

October 28

8:26 am

October 28

11:45 pm

October 30

10:48 pm

October 31

8:22 am
November 2013 Void of Course Moon Table


Void Begins

Void Ends

Date
Time (EST)
Date
Time (EST)

November 2

8:47 am

November 2

1:35 pm

November 3

11:23 pm

November 4

3:14 pm

November 5

3:43 am

November 6

4:44 pm

November 8

2:39 am

November 8

6:30 pm

November 10

12:57 am

November 10

9:36 pm

November 12

9:34 am

November 13

2:39 am

November 14

3:57 pm

November 15

9:49 am

November 17

10:16 am

November 17

7:07 pm

November 19

10:59 am

November 20

6:23 am

November 22

2:11 am

November 22

6:56 pm

November 24

3:59 am

November 25

7:11 am

November 27

6:44 am

November 27

5:00 pm

November 29

6:13 am

November 29

11:03 pm
December 2013 Void of Course Moon Table


Void Begins

Void Ends

Date
Time (EST)
Date
Time (EST)

December 1

8:34 pm

December 2

1:31 am

December 3

10:45 pm

December 4

1:49 am

December 6

12:31 am

December 6

1:53 am

December 7

7:11 am

December 8

3:34 am

December 10

1:41 am

December 10

8:06 am

December 12

10:37 am

December 12

3:40 pm

December 14

9:54 pm

December 15

1:40 am

December 17

4:28 am

December 17

1:17 pm

December 19

11:37 pm

December 20

1:48 am

December 22

8:25 am

December 22

2:19 pm

December 24

10:55 pm

December 25

1:17 am

December 27

6:00 am

December 27

8:58 am

December 29

8:54 am

December 29

12:37 pm

December 30

6:36 am

December 31

1:01 pm